.........................................."Battle of the Big Sticks!.........................
The Creator's Game



Page under construction.

Will feature the Flemish national holiday, on Sept. 11, in honor of the "Battle of the Big Sticks", plus the native American game of "Big Sticks"- LaCrosse. (The name 'LaCrosse' was probably derived from "Bishop's Stick". The Californian Dutch nickname for the game is 'Hackensack'-('Hook and Bag').

There are numerous parallels between LaCrosse, which defined American Indian culture for more than 500 years, and the great "Battle of the Golden Spurs", which has defined Flanders since 1302.




Burgundian Flanders vs. France
Lacrosse "Weapons"

The "Battle of the Golden Spurs" was the Flemish-French 'Battle of Kortrijk'. It started when the King of France took the Flemish Duke of Burgundy hostage.

In the battle a citizens' militia of Flemish foot-soldiers armed with spears defeated the mighty French cavalry. Following the Flemish victory, the thousands of spurs captured during the battle were hung in the Church of Our Lady in Kortrijk.

As a result of the victory, Flanders was able to remain Burgundian, as opposed to becoming French. Today, the 'Battle of Kortrijk' is considered to mark the beginning of Flanders. It is celebrated on July 11th.




Flemish Goedendag
"The Magic of the Stick"


In additions to serving as a momento of the Golden Spurs battle, (plus being quite fun), Lacrosse is a key feature of the Calidocious Project because it provides an excellent metaphor for conversation. The Lacrosse stick can be considered to be language, and the ball can be considered to be an idea that is passed back and forth.

Due to the speed and frequent transfer of the ball from stick to stick, the motion of the ball at times seems to trace a pattern in the air. If the Lacrosse ball were a ball of yarn that unraveled as it was tossed from player to player, the thread would soon form a tapestry. This imaginary tapestry can be considered to be a conversation.


| | |
| --- | --- |
| | The "Little Brother of War" |
| | | |
| --- | --- | --- |
| Birds vs. | | Animals |
| | |
| --- | --- |
| The highlight of the month is 'Sequoia Day', which coincides with the Flemish holiday and features a LaCrosse game. The holiday is in honor the great American Indian teacher Sequoia. Sequoia not only developed the Cherokee alphabet, but was able to teach the entire Cherokee tribe to read and write within twenty years! At the time of Cherokee's death, the Cherokee had a higher literacy rate than the English speaking immigrants to North America. | The giant 'Redwood' trees are also called 'Sequoia' trees and are named after teacher Sequoia. |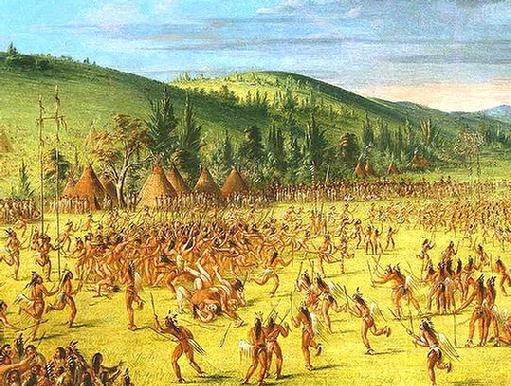 Catlin- "The Creator's Game"
© 2022 Calidocious Inc. All Rights Reserved. Version 02/20/2022
"

CA Overdrive!™
"